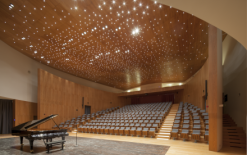 A marriage of music and wine - Theatre Forum Fondazione Bertarelli - Tuscany
A simple and effective system, made up of Bose MA12 opened the new Forum, a theatre boasting 300 seats, in the middle of the vineyards in Grosseto, Tuscany, home of the prestigious Amiata Piano Festival. And that's just the beginning.
LAST OUR REFERENCE SITE.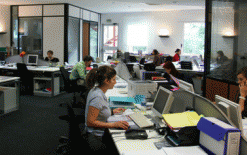 PRIVACY IN OPEN SPACE ENVIRONMENTS- MASKING SOUND -
PRIVACY IN OPEN SPACE ENVIRONMENTS MASKING SOUND -
With the spread of environments "open space", applied to offices, business premises, local doctors etc .. have multiplied the problems of privacy in conversations between people.
Inevitably the open spaces allow listening content even to people outside or not interested in the discussion.
To overcome this problem and greatly reduce, we tested some audio systems that, by entering into the audio signal frequency controlled, mathematically unable to ensure the necessary privacy;
what 'it happens thanks to the systems they create disturbances in the understanding of the subjects in the same environment for a longer distance.
This innovative sound system, makes it possible both to avoid creating the perception acoustically unpleasant or confusing environment.
INAUGURATION CHURCH OF HOLY IPPOLITO - BOSE SOUND SISTEM
TELEVISION NEWS - Our last success in terms of acoustically complex installation, resolved with futurist digital technology